Tocmai am dat peste un articol interesant: "
The Facebook Cleanse. Happy birthday! I'm unfriending you, stranger
". Rezonez în mare parte cu autorul. Practic singura diferență dintre mine și el este că eu nu am ajuns niciodată la 1.000+ Facebook "friends". De fapt lista mea nu a atins nici măcar 100 de persoane la un moment dat, iar acum am doar 58 de contacte acolo, ceea ce vă recomand și vouă.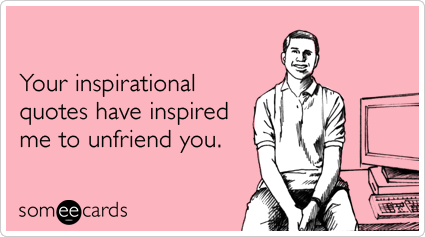 Dar să revenim la articol. Acest Dan Kois (nu râdeți) a găsit o modalitate de a da unfriend prin care se simte bine cu el însuși. Cum zilnic există câteva personaje care se aniversează, din ditai lista aia de 1000+ a lui, se uită el așa la fețele lor și se întreabă: "Chiar simt nevoia să-i spun la mulți ani ăstuia? Oare și-ar da seama sau i-ar păsa dacă nu o fac?". Apoi extrapolează la "Oare are vreun sens să-l mai păstrez la contacte?". Și uite așa omul nostru cerne lista, la fel cum fac și eu în mod constant, fără a fi nevoie să folosesc aniversările pentru a mă elucida. De altfel
am mai explicat cum procedez
și credeți-mă că e mult mai sănătos așa.
Facebook-ul este locul meu de joacă din virtual. Acolo dau cel mai mult din casă, din acest motiv sunt foarte strict cu persoanele care au acces la profilul meu. Totul se bazează pe comunicare și interes. În rest
pot fi urmărit pe diverse alte site-uri de socializare
, unde sunt mult mai puțin restrictiv. Până la urmă totul se rezumă la metafora acestui Kois:
"Not all friendships last forever. That's the way friendship once worked in a world without online communities; if you moved away or got a new job, only the most durable of the related friendships survived. If you lost interest in a person—or if she lost interest in you—the relationship ended. Perhaps you sent each other holiday cards. But you didn't send each other cards every day, which is what being friends with a nonfriend on Facebook feels like."