The Fly on a Wall - 5 ani
Astăzi se împlinesc 5 ani de la prima postare făcută pe acest blog. În acest răstimp am publicat de peste 1500 de ori aici (2011 fiind de departe cel mai prolific an), însă nu toate articolele au rezistat în arhivă - cele care nu mai prezentau nicio relevanță nici pentru mine și nici pentru vreun cititor au fost înlăturate. Îmi place să mențin această pagină cât mai fresh și mai curată.
Pe același principiu nu păstrez în blogroll acele pagini pe care nu s-a postat de secole. Dacă ai un blog expirat, de care nu te ocupi, oricât de bine ai scrie și oricât de drag îmi ești ca prieten, nu te țin acolo. Evident că aștept părerile voastre: cum v-a plăcut acest blog până acum, ce sugestii aveți, despre ce și cum ați vrea să scriu mai des.
Cele mai abordate teme:
3.
Filme
- 164 posts
4. Călătorii/orașe/clădiri (i-am zis eu
Travel
) - 133 posts
5.
Viața în Cluj
- 131 posts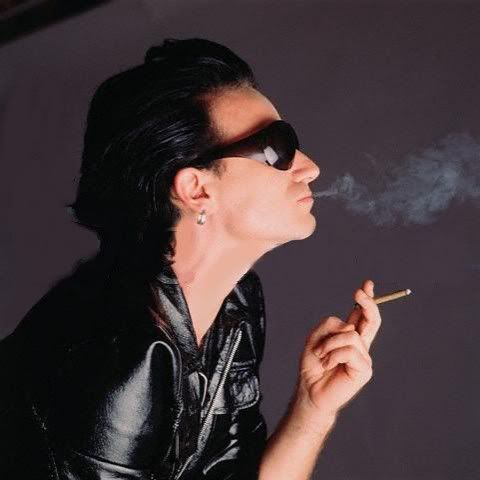 Iar acum e cazul să vă reamintesc cine a fost The Fly, mai ales dacă vă mirați că U2 și Music reprezintă două categorii diferite pentru mine - asta pentru faptul că eu împart muzica în U2 și restul. The Fly a fost un personaj creat de Bono pe scena Zoo TV, un alter ego care i-a permis să spună lucruri pe care Bono însuși nu le-ar fi putut spune, un rocker cool și arogant, un star rock suprem. Mai multe detalii
aici
, de unde cităm:
Bono conceived the alternate persona, "The Fly", during the writing of the song of the same name. The character began with Bono wearing an oversized pair of blaxploitation sunglasses, given to him by wardrobe manager Fintan Fitzgerald, to lighten the mood in the studio. Bono wrote

the song

's lyrics as this character, composing a sequence of "single-line aphorisms". He developed the persona into a leather-clad egomaniac, describing his outfit as having Lou Reed's glasses, Elvis Presley's jacket, and Jim Morrison's leather pants. To match the character's dark fashion, Bono dyed his naturally brown hair black.
Bono began each concert as The Fly and continued to play the character for most of the first half of the concert. In contrast to his earnest self of the 1980s, as The Fly, Bono strutted around the stage with "swagger and style", exhibiting mannerisms of an egotistical rock star; he publicly stated, and adopted the mindset, that he was "licensed to be an egomaniac". He often stayed in character away from the tour stage, including for public appearances and when staying in hotels. He said, "That rather cracked character could say things that I couldn't", and that it offered him a greater freedom of speech.
Pentru că mi-a plăcut atât de mult ideea acestui personaj dar și numele în sine, simplu și cu atât de multe interpretări, am început să folosesc The Fly ca pseudonim atât pe mIRC (prin secolul trecut) dar și pe forumurile muzicale unde am activat în perioada 2004-2009. Când mi-am făcut blog nici că puteam găsi ceva mai elocvent pentru The Fly decât The Fly on a Wall, pentru a parafraza versul din refren al melodiei U2. Ați prins ideea. Ok, destul cu astea, că iar alunec în fandom ca un groupie excitat. Așa cum am spus la început, aștept ideile voastre despre acest blog și mulțumesc celor câteva zeci de cititori fideli.